Some Americans are currently feeling hopeless. The videos below are of Americans who HAVE hope.
Stories / Newspaper Articles/ Songs
In North London on April 28, 2017, members of the public spent two hours holding a man who had threatened to jump from a bridge.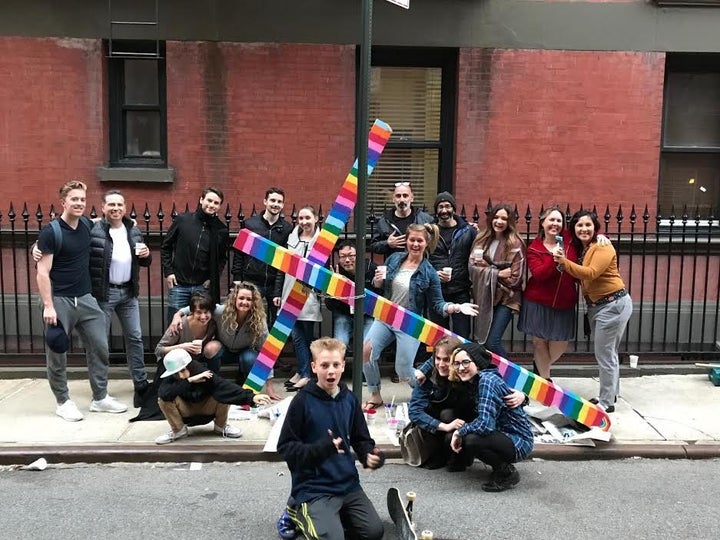 Someone chained a cross to Gay Street in NYC. What happened next was beautiful.

When 2-year-old Sophia was told she could pick out a prize for finishing her potty training, she knew just what she wanted - a doctor doll.
When Jax
(on left)
, a five-year-old boy in Kentucky, was told he needed a haircut, he said that he wanted his head shaved really short so he could look like his friend Reddy (on right). He said he couldn't wait to go to school on Monday with his hair like Reddy's so that his teacher wouldn't be able to tell them apart.


Videos
Nov. 11, 2016 - Waco, TX Baylor students rallied on campus Friday morning in support of girl who said she was called a racial slur on campus.
The student, an African American, said she was walking on campus when another student bumped into her and called her the 'N' word.
She also said another student came to her defense and when he asked the guy who pushed her why he did it, he said he was trying to make America great again.
The girl told the story in a video on Twitter. It went viral and the hashtag
#IWalkWithNatasha
was created.
Hundreds of supporters showed up Friday morning on campus to walk as a show of unity.
A single individual is enough for hope to exist, and that individual can be you, says His Holiness Pope Francis in this searing TED Talk delivered directly from Vatican City. In a hopeful message to people of all faiths, to those who have power as well as those who don't, the spiritual leader provides illuminating commentary on the world as we currently find it and calls for equality, solidarity and tenderness to prevail. "Let us help each other, all together, to remember that the 'other' is not a statistic, or a number," he says. "We all need each other."
"We are not experiencing the best of times, but there is reason to hope" - US Supreme Court Justice Ruth Bader Ginsburg tells us in a rare interview Feb. 23, 2017.
Goodnewspaper - A printed newspaper full of good news.
Fighting against a world full of hate by celebrating the people, ideas and movements that are changing the world. Learn more here.
In 2014 Honey Maid Graham Crackers made a video about diverse families to remind us of the meaning of "wholesome." They got a lot of comments, both pro and con. The above video shows what they did with all those comments.
Rev. William Barber,
Pastor of Greenleaf Christian Church, Disciples of Christ in Goldsboro, North Carolina,
offers some words of hope. "People have always stood up." He established a "Moral Monday" as a rallying point about moral issues, holding race and class together. Maybe it's our time to stand up. "We will never give up on the heart of this democracy."
Here's a powerful and hopeful address by Valarie Kaur, storytelling for social change, at the National Moral Revival Poor People's Campaign Watch Night Service 12/31/2016. "What if this darkness is not the darkness of the tomb, but the darkness of the womb? What if our America is not dead,, but a country that is waiting to be born?"